Our monetization platform features a fully developed integration with the Ooyala platform.
---
Connecting your InPlayer and Ooyala accounts
Connecting your InPlayer and Ooyala account is extremely simple. In order to pair your Ooyala and InPlayer account, log in to InPlayer dashboard and navigate to the OVP Integrations located under your Account Settings in the top right and choose Ooyala (OVP).
There you will be prompted to enter the Public Key and Private Key from your Ooyala Account.
Read on for a step by step guide.
---
How to find Secret and API Key from the Ooyala Dashboard
Proceed to Account section of your Ooyala Dashboard

Click on the Developers button, and the Backlot API information will be presented.

From Backlot API section copy the API Key, which refers to Public Key, and API Secret, which refers to Private Key into InPlayer Dashboard and click Save.
---
Creating an Asset
To create an asset in the Dashboard, follow the few steps below:
Log in to your InPlayer Merchant account and proceed to the Assets tab.
https://dashboard.inplayer.com/assets
Click on the +Add New button. 
Select the Video asset type.

Click on Ooyala.

This will open the asset creation window where you will be able to modify the look and feel of your asset, add pricing and integrate the selected video from your Ooyala account.
Before continuing forward, make sure to give your new asset a Name in the top-left corner.


Modifying the asset
The asset creation window contains four sections.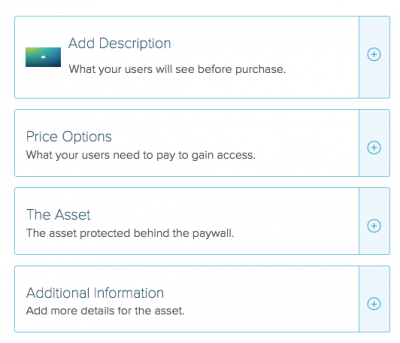 Description
In the Description section, you can give your asset a title, description, preview image and change the text on the Buy button.
*Tip: You can advertise the price of your digital content directly on the Buy button.
Price Options
In the price options section, you can add and remove multiple prices and select from a range of currencies.
The Asset
At the Ooyala Edit Asset section, choose your video from the list:


Additional Information
This field is not used for the Ooyala integration and can be skipped altogether.
Once you have done the entire modifications click on the Save button, located in the top-right corner.
---
Embedding the asset
Once you have created your Ooyala asset, it's time to embed it on your website and start selling.
To get the asset embed code, click on the action button of the asset you've just created and locate the button in the top right-hand corner.


We also advise that you should use the Paywall V2, which is an updated, more optimized and modern version of the V1.
Choose your Branding theme by selecting it from the drop-down menu, as presented below. If you don't have any Branding Themes or have set a default theme, you don't need to select anything from this drop-down menu.
Copy and Paste the InPlayer's JavaScript file in the <head> of your website, then copy and paste the Embed Code in the <body> section of your website.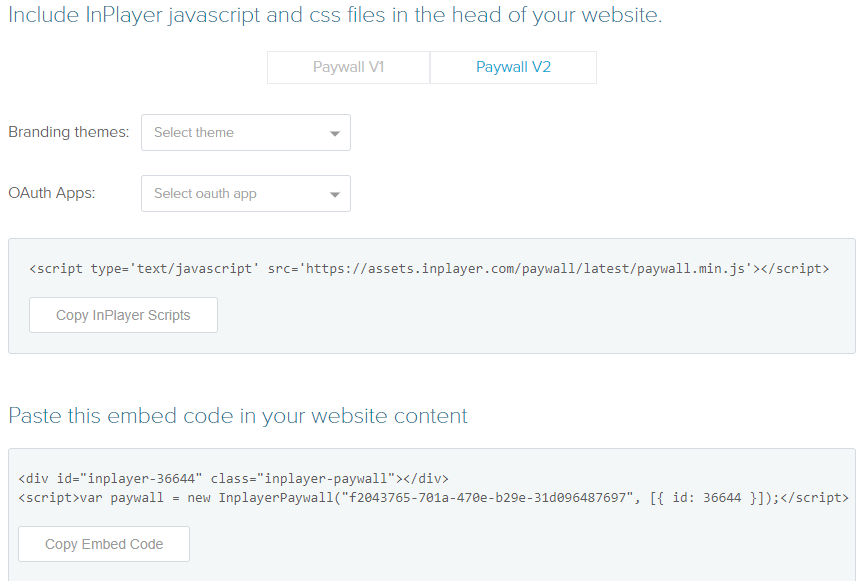 You will see the paywall show up on your website and you are will be ready to start your digital monetization journey.
For any questions, please contact support@inplayer.com.