Parks Associates shows that households with a streaming media device watch more online video content than households without such a device.
The study found that households with an active streaming media device watch an average of 22 hours of video on television per week. That's a four hours more than households without one of these devices, which watch 18 hours per week on average.
Streaming media device owners watch double the amount of Internet video on the television, consuming six hours per week compared to three hours among non-owners, but only eight hours of broadcast TV compared to 10 hours for households without a streaming media device.
According to the director of research at Parks Associates Brett Sappington, "Adoption of streaming devices, combined with an increasing supply of OTT options, has altered the video environment, demanding new business models in advertising, content creation, and video subscriptions".
Most Popular Streaming Media Devices
Since the interest about streaming media devices has started growing, so did the options. According to Parks Associates  Amazon, Apple, Google, and Roku – accounted for 86% of all units sold to U.S. broadband households in 2014. This market concentration will force new entrants to develop unique solutions in order to have an impact in this expanding ecosystem. The Streaming Media Device Landscape estimates that 86 million streaming media devices will be sold globally in 2019.
Barbara Kraus, Director of Research at Parks Associates said: "Roku continues to lead streaming media device sales in the U.S. with 34% of units sold in 2014. Google is second with 23%, and new entrant Amazon overtook Apple for third place".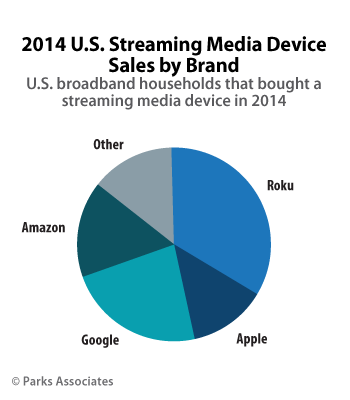 She also added: "The market consolidation around these four brands forces new entrants to develop more creative features and functionality to tap into the strong consumer demand for streaming content. Devices with additional functionality such as the Intel Compute Stick may be a sign of things to come, where streaming is not the primary function but an extra feature to provide additional value."
The report also said that, nearly 20% of U.S. broadband households own at least one streaming media player, such as a Roku 3, Amazon Fire TV, or Apple TV. Eight percent own at least one streaming stick, such as a Google Chromecast, Amazon Fire TV Stick, or Roku's HDMI Streaming Stick, while 2% own both.