Do you want to run reports effectively? Are you wasting too much time on report creation?
At InPlayer we care a lot about our customers needs. We have listened closely and we've taken action. We'd like to introduce you to our latest feature: scheduling one-time or recurring reports.
What is scheduling reports?
Scheduling reports or automated reporting allows you to automate report creation and generate reports at a given time and in given intervals.
You can schedule your reports to be run on a given day of the week, on a given day of the month or repeat with a predefined or custom frequency (eg. Run the report every three days starting from August 1st) and do all that with the ease of just a few button clicks. You can also schedule your report to finish running after a given date, or after a given number of occurrences.
Scheduling one-time reports
If you have an event in the evening and you want to know your revenue right after the event, or you want to follow up with your audience and say thank you, you can schedule that report to be created at a given date and a specific time. So when your event finishes, your report will be automatically created, and you can analyse your revenue, or you can import the mailing addresses into your marketing tool of choice and engage with them. The options are unlimited.
Scheduling recurring reports
If you create various reports over and over again, then scheduling recurring reports will definitely make your life easier and save you time.
With our recurring scheduled reports functionality you have the flexibility of creating scheduled reports at certain days of the week, days of the month or create a custom frequency (ex. every three days). You also have the flexibility to state what data you want in these reports. A monthly report doesn't always have to have the data for that month included in it. A monthly growth report can be a report where you analyse your earnings from the beginning of the year to date, so that you can analyse if you're meeting certain benchmarks or not.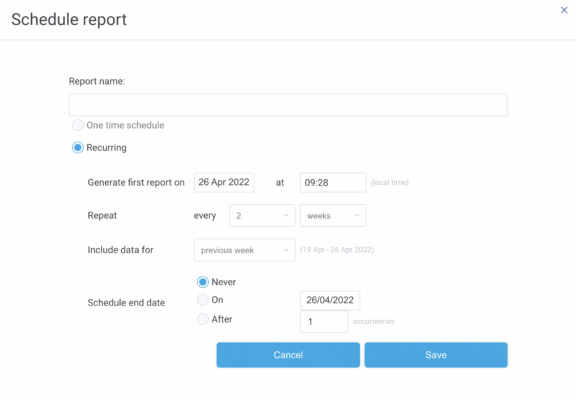 Benefits of scheduling reports
There are a number of benefits from automated reporting, but let's look at the two most important ones that stand out and contribute towards better business flows and optimisation.
Optimisation
With scheduling reports you optimise your time and take the most out of it. If you run revenue reports on a daily basis, or check once per day for newly registered customers from the previous day – calculating with a 5 minute mark per report creation, we come to a stunning number of 2.5 hours per month spent on just creating reports. And if you are an organisation where multiple people generate reports on a daily basis, then you probably spend multiple man days just on report creation within your organisation.
With scheduled reports you can save this time and optimise your employees' time with just setting everything once upfront. Then you can go and make your morning coffee and when you come to your desk, your report will be waiting for you there.
Error reduction
If you have to generate the same reports over and over again, it is very likely that every once in a while you will make a mistake. And then realise the mistake, and create the report all over again. This brings us to the previous point – optimising your time.
With automated reporting, your reports will always be generated in the given frequency, with the given time interval, at the given time with the data that you specified in the first place included. You will never forget a report and you will never create an unwanted report ever again.
What's next?
At InPlayer we don't just deliver a feature and stop. We constantly iterate, hear your feedback, listen carefully and improve so that you can have the best possible experience. Over the following period, we will enable you to not just automate and schedule reports, but you will have them delivered right in your inbox. So watch out for new updates on this matter!
We'd love to hear your feedback!
We're always happy when our customers tell us what they think. It means that we build products that matter. Do you have some feedback to share?