We are built to seek out connection. The human machine is designed as a sensory machine, and our experiences are heightened by every feedback stream we're able to plug ourselves into. Small wonder that we love live events, gathering by the hundreds and thousands, and basking in the sights, sounds and vibrations of the moment.
But time is precious. Tickets are expensive. Events are rarely staged around the corner. We can't always be there. Still, just because many of us have stopped going to the cinema doesn't mean we aren't watching films anymore. Movie night is now Netflix and chill. And guess what? It's all good. We're finding that many of our entertainment alternatives are delightful enough on their own – and, in some cases, even better than an on-site, in-the-round experience.
Technology is creating a new paradigm for artists of all stripes – from those accustomed to headlining arena tours to those still knocking around clubs for beer money – and possibly offering a sustainable model for those beyond the pandemic. As album and streaming sales slowed to a trickle in recent years, live shows replaced recorded music as the bread-and-butter income of most artists. And with the pandemic prompting venues to shutter and concert-goers to stay home, artists have had to adjust yet again, finding alternatives to the traditional delivery systems of even their live music.
The biggie, of course: live video streaming. Bands and musicians – or even DJs, comedians, dance troupes and others – now have affordable and easily accessible means for connecting an audience to their performances through online streaming. Bypassing promoters, club owners, ticket-sales syndicates and, in fact, any of the traditional brick-and-mortar restraints of touring and gigging should have wide mass appeal for artists of all stripes. 
Video streams have become simpler than ever to monetize, and in any case, the medium is an opportunity for new and niche artists to reach a wider audience.
In the age of connectedness, live streaming your music event is rapidly surging in the entertainment industry. So, content providers should smartly leverage the power of video and launch online concerts, competitions and games.
Live music and entertainment events streaming is a great way of gaining exposure and generating revenue – if you're a musician or artist and you're looking to monetize your videos with pay-per-view and subscription models.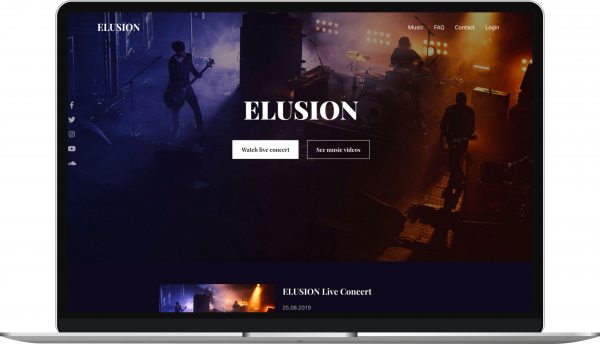 With InPlayer Landing Page, get your own on-demand videos in a branded microsite to showcase, sell and extend the life of every concert, competition or professional contest. Performers can easily tap into the power of a landing page to build their brand, drive conversion and earn customer loyalty. A whole new business model with subscription revenues with an InApp premium monetization experience across platforms, connected TVs and devices.
The amplifying effect of tech for artists doesn't end with video. Streaming music services like Spotify, Pandora and others have undeniably undercut the earning power of musicians. But they've also undeniably helped level the playing field, lower the barrier to entry for artists and expose listeners to more music. Online merchandise sales are a vital revenue stream for many artists – one that can be easily partnered with a streaming platform for an all-in-one experience. Social media and electronic newsletters amount to free, direct-to-consumer advertising, establishing a two-way channel that keeps fans informed, builds interest and creates a feedback loop that allows for authentic artist-audience interaction.
Virtual performances aren't likely to ever completely replace the real thing. The feeling of standing in the front row, sharing a space with your favorite artist and joining thousands more joyous fans in the experience can't be replicated. But even after artists go back to packing houses for shows, they'll have a ready option for building an audience, adding revenue streams and augmenting their fan connection with approachable, at-your-fingertips technology.