Most Americans now prefer watching operas and movies through streaming websites like Netflix instead of watching it live on TV. A survey conducted by a consulting firm, Deloitte, last year found that about 53% of Americans stream TV shows and 56% prefer streaming videos on a monthly basis, while only 46% prefer watching it live.
The study revealed that internet-streaming services have become the preferred choice among 14-25 year olds for watching videos. Dubbed as the "Trailing Millennials", the study says that people in this age spend more time watching videos online than on satellite or cable TV. About 72% of the people of this age group are cited to prefer video streaming services, while only 58% had the same view point about Live TV.
However, older age groups are still into pay-TV with 80% of the people in the Generation X (32 – 48) preferring pay TV over streaming videos, while 89% of the Baby Boomers (49 – 67) have the same view about pay TV.
Video Streaming Becoming Trendy Among the Young
The survey states that 25% of the Trailing Millennials (14 – 25) had either haven't watched pay TV in the last 12 months or had cancelled their subscriptions. Video streaming is becoming trendy among young people. Most of them (around 57%) watch streaming video on their smartphone devices or laptops instead of on a TV set. The older the generation, the more they prefer watching videos on their TV sets. About 57% of Leading Millennials (26 – 31), 70% of Generation X (32 – 48), 81% of Baby Boomers (49 – 67), and 90% of people aged 68+ cited watching videos on TVs.
The study also find that binge watching, i.e. viewing 3 or more episodes in one sitting, is also becoming prevalent among Americans. More than 68% of respondents of the survey stated that they engaged in marathon video streaming that lasts for four or more hours. Of these, around 31% of the respondents indulge in binge watching by streaming videos online at least once a week, with 42% of the respondents belonging to the Trailing Millennials.
Trend of Multitasking While Streaming Videos
Another interesting insight of the study was that about 90% of the Americans multitasked while streaming videos online. They engaged in activities like reading emails, surfing the net and text messaging while watching streaming videos. Millennials and Generation Xs are both cited to have engaged in three additional activities while watching streaming video, while the Baby Boomers stated engaging in only two activities and one for people aged 68+.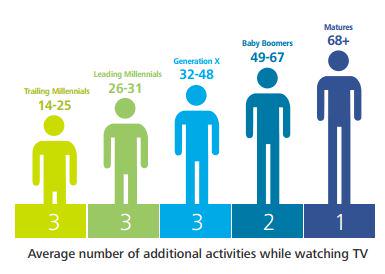 Most respondents stated that the multitasking activities were actually related to the videos that they were streaming online, while about 75% of the respondents stated that they multitasked during digital TV ads.
In short, video streaming has become extremely trendy among the Americans due to its convenience and low cost. In case you have any questions and queries relating to streaming videos online, you should share those with us by leaving your comment below.