Traditional television broadcasting is under serious attack from OTT providers and competitors threatening to steal away subscribers at a fast pace.
Video games industry has developed insanely into a real-world business, with staggering $36 billion a year in revenue in the U.S. alone. According to Entertainment Software Association the release of new games went up to 18% in 2017 compared to the previous year with total number of 7,600 games released in 2017 or 21 new games per day.
Video game streaming services are also expanding. Without them users can spend hours and hours in game research to find out what they need or what games are worth their money. Twitch for example, functions like a live video feed similar to Netflix streams. It's like watching a live sports game, with live commentaries and interactive viewers element. When Amazon purchased Twitch back in 2014 the platform had 250 million hours of view time in total, and this growth is highly likely to continue to grow with signs of slowing down.  
According to Streamlabs, more than 1.1 million streamers were active on Twitch the first quarter of 2018 and the industry enjoyed a 39% increase in activity. The most streamed game was Fortnite with more than 8.3 million hours played live. At any given time, nearly a million people are watching a stream on Twitch.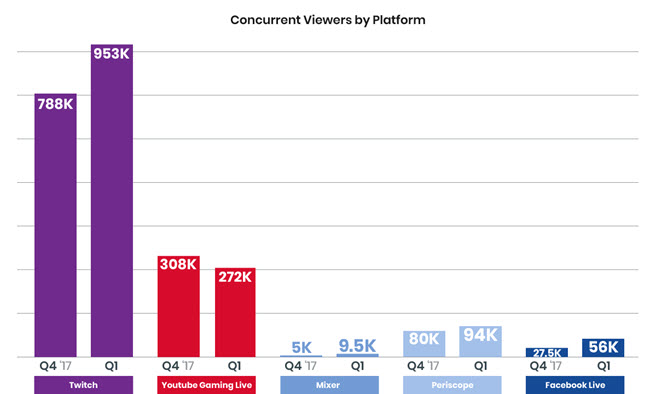 It is estimated that the first quarter of 2018, Twitch and major competitor YouTube Gaming  accumulated 2.5 billion hours of view time.
In terms of video game subscriptions they don't seem to have the issues major subscription players have. Namely, they discourage password sharing, which is most common problem in TV and movie streaming. Games are designed to be played by one player with one account who moves through the storyline and charts progress as they play.
This simply means that users almost never share subscription details, because unlike rewatching a favorite show, players can't simply rewind to a previous point without losing their progress.
Overall the passionate gaming audience is pushing the gaming industry forward, stimulating it to grow even larger in the future.
That passionate audience continues to push gaming forward attracting new players, setting the massive industry up to grow even larger in the future. In a similar way companies will need to find ways to set themselves apart from a growing group of competitors — perhaps embracing subscription commerce so they can stay on top of their game.