Creating is at the heart of everything InPlayer does. We're already at a point in history where too much damage has been done to our ecosystems, so being environmentally neutral is no longer good enough. However, in 2020 the world went virtual and we became one of the most significant companies on the global digital content market. We started the InPlayer Green Project to celebrate all the new clients we've had the pleasure to work with, launch their online presence and all the new partnerships we have made over the past year.
It's our way of showing gratitude to you, our customers, as well as  the environment, which we believe should also reflect how we interact with the world around us. We decided to join one of the national reforestation actions organised by the Ministry of Forestry in North Macedonia and improve livelihoods and restore degraded lands to sustainable productivity through planting beneficial trees.
It is time to realise the potential for tree planting to help solve some of the most pressing challenges of our time. To do that, we need enthusiasm combined with careful planning, implementation and monitoring.
Looking forward to the next reforestation initiative this autumn!
We're 'planting good seeds', and making a difference! All thanks to you – our clients! 
Plant TREES. Change LIVES.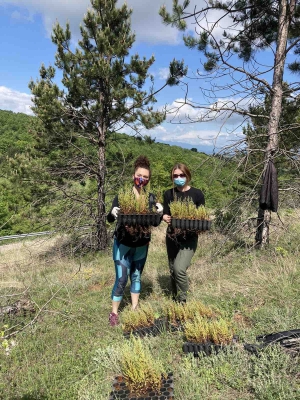 #AwesomeTeamCelebrates #AwesomeTeamCares #AwesomeTeamPlants