With the benefit of perspective, the explosion of over-the-top media during the pandemic should have been considered a foregone conclusion. As the rare entertainment refuge for a sheltered-at-home public, streaming video undeniably had its moment – particularly during the sweet spot after sports returned but before fans were allowed back into the stands.
But what if it wasn't just a moment? Although fueled by a variety of circumstances that aren't likely to be replicated anytime soon, the current rise of streaming sports can be expected to skyrocket into the foreseeable future. Here are five reasons OTT providers can bank on streaming sports maintaining its upward trajectory post-pandemic: 
Flexibility. The people have spoken: cord-cutting is the future. Empowered with the ability to pull a smartphone from a pocket and call up live sports remotely – anywhere a wifi or satellite signal will reach – the average fan can now take the game with them wherever they go. Sports viewing on the living room sofa will always have its (wonderful) place, but fans will continue to flock to technology that allows them to watch games at work, around the campfire or at Aunt Ethel's Easter brunch.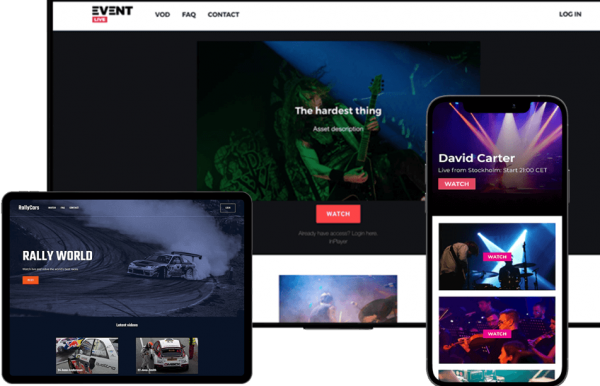 InPlayer helps sports franchises build an unlimited digital stadium. Whether set up as a pay-per-view platform or one with a season pass, InPlayer can activate an OTT channel for any sports franchise, monetize the platform and manage all login credentials. 
Game enhancement. Ever been seated in the stands at an event and spotted the fan with the pilot's cans and ancient black-and-white portable TV? They still exist – but not for long. Smartphones and Bluetooth-enabled earbuds are too sophisticated, too connected and too affordable for even the most set-in-their-ways sports junkies. Fans want close-ups, optimized camera angles, replays and commentary from their favorite announcers – and OTT gives it to them with a live game experience.
Fantasy sports and gaming. The floodgates for legal sports gambling have opened, legitimizing an industry with an enormous existing underground market. Gaming has the same (and perhaps greater) potential for growth that we witnessed in fantasy sports over the past generation – and both figure to be taken to the next level by the current OTT-connected generation of sports fans.
Affordability. Game tickets, parking, transaction fees, a souvenir, a dog and a brew – they all add up to a small fortune for today's fan. Marshalling the wealth required for a family outing to the game is a bridge too far for some. But for the same price, parents can afford subscriptions to the full-season streamed broadcasts of multiple leagues. With smartphones and a digital plan, the entire family can enjoy every game – anywhere, anytime.
Experience. OTT offers a world of possibilities to viewers, content creators and providers. Modern screen technologies and resolutions make games an immersive experience for fans. Streaming presents franchises, programs, coaches and athletes with licensing, recruiting and media-development opportunities. Creative OTT providers have a chance to innovate new ways to connect with viewers and build revenue streams. The next Hard Knocks or Basketball Wives very well may be produced and delivered exclusively by a forward-thinking streaming service. Everybody wins.