The recent COVID-19 pandemic has proven to be an evolutionary event for streaming video as millions of new users, following strict shelter-in-place edicts, turned to streaming video for entertainment, news, remote learning and of course, sports. Video views globally increased nearly 23% for sports and entertainment. In North America, views were up 19% and time watching increased 21%. Asia-Pac saw a 67% increase in views with Australia/New Zealand up 39%, with a 31% jump in time watched.
At a time when the usual routines have been disrupted, the familiar rhythms of our sport matches provide relief for so many of us. The NBA and NHL have returned to play and Major League Baseball ultimately moved forward with its season. The same goes for boxing, UFC and the PGA who have started to hold events, and the NFL season is scheduled to begin with the NFL Kickoff Game on September 10. It appears almost certain that the 2019/20 sports season for most countries globally will be completed behind-closed-doors, except for one thing: no spectators.
Still, all those empty seats at stadiums and arenas should not be misinterpreted as a lack of public interest. If anything, the audience of consumers hungry for sports content is more ravenous than ever. The games, they've discovered, are a gateway to additional entertainment. Fans don't turn their attention from the field to their phone because they're bored. They love the experience. They just want more of it.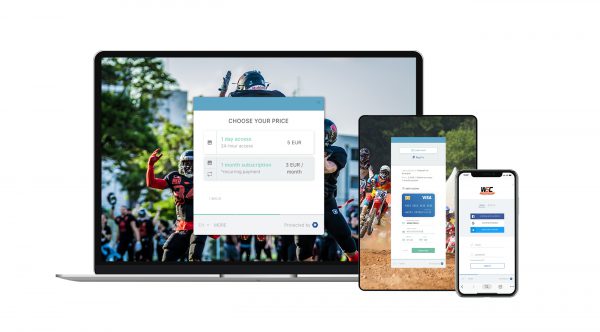 According to eMarketer's forecast on digital sports viewers, 36.5 million people in the U.S. will watch live sports digitally this year. For sports properties seeking new ways to engage fans, or new options for better leveraging existing channels, the current momentum should be considered as a crucial one.
To claw back some of the lost revenue at the gate, sports properties are also looking into ways to easily live stream their games or competition online and enable fans to watch with a "digital ticket". By selling these digital tickets using pay-per-view or subscription functionalities, it would not only keep the supporters connected and engaged with clubs – but guarantee income until fans can return to stadiums. 
This shift in the consumption of sports content, plus today's advances in technology are empowering fans to stay connected from home and, at the same time, willing to pay to watch games of their favourite team or subscribe to a seasonal membership regardless of price.  
The main questions sports properties are asking themselves now is –How do teams keep supporters engaged with fans-first digital experiences? How to generate digital revenue?
Primarily the future of live or on-demand PPV is fundamentally defined by audience preferences, which in turn drives how content owners deliver and monetize their content. Having said that sports organizations need to ensure they are investing in scalable technologies that offer premium viewing and monetization experiences, live streaming and on-demand access. Benefiting from a global infrastructure and an extensive partner ecosystem, InPlayer's market-leading subscription and pay-per-view solution, enables businesses to monetize live or on-demand video content with an unrivalled user experience, and get immediate ROI at no starting costs. With 10+ years experience in live and on-demand sports video streaming and monetization, InPlayer is trusted by the largest leagues, federations, rights holders and content owners in the world, supporting their digital transformations and online video monetization strategies.
The challenge remains in identifying scalable and reliable monetization tools that work cross-platforms and devices, globally. On the other hand, the increase in digital engagement is likely to continue. Secondary-screen engagement is here to stay, and it will be those sports properties with both the content that most resonates with fans and the will to deliver it to them that finish ahead in this market. The public awaits.