2020 will certainly be remembered for the COVID-19 crisis on the world's tourism, educational or arts institutions. While a lot of the attention has been focused on the mentioned sectors, the sports industry is also part of this dramatic wave of change, disrupting the whole ecosystem from clubs and rights' owners to broadcasters and fans. Much remains in a flux, but one thing is clear – Sports clubs need to invest for the long term in their digital stadiums. 
Clubs and leagues are now facing an increased challenge for the attention of their fans than ever before. How to stay relevant, offer exclusive access, build stronger connections, generate digital revenues? How to be appealing and effective to fans but at the same time generate revenue beyond traditional broadcast rights contracts –  the modern sports battle has already started to happen online, on digital platforms. 
How Have Clubs From the Premier League Decided to Stay in the Game?
The Premier League and UK government had hoped to bring fans back into stadiums from 1 October but those plans were scrapped following an increase in coronavirus cases.
So, clubs have agreed to an "interim solution" to allow games not selected for broadcast in October to be available to fans on a pay-per-view basis so they can continue watching their teams live. Pay-per-view games will generate some revenue in light of no matchday income for clubs, with the continued absence of fans in stadiums.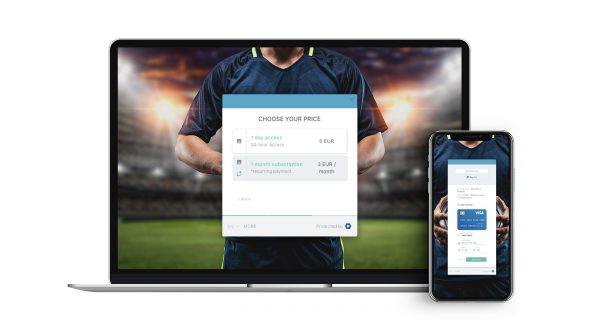 This and today's advances in technology and shift in sports consumption are empowering fans to stay connected from home, pay to watch games of their favourite team or subscribe to a seasonal membership. To claw back some of the lost revenue at the gate, sporting organizations are also looking into ways to easily live stream their games or competition online – behind closed doors –  and enable fans to watch with a "digital ticket". By selling these digital tickets using pay-per-view or subscription functionalities, it would not only keep the supporters connected and engaged with clubs – but guarantee income until fans can return to stadiums. 
And since sports video content is an increasingly fragmented environment, it can drive massive engagement and represent a source of untapped revenue for every organization if distributed and monetized effectively. On the other hand, live or on-demand PPV is fundamentally defined by audience preferences, which in turn drives how content owners deliver and monetize their content. The challenge remains in identifying scalable and reliable monetization tools that offer premium viewing and monetization experiences, live streaming and on-demand access.
With 10+ years experience in live and on-demand sports video streaming and monetization, we, at InPlayer, are trusted by the largest leagues, federations, rights holders and content owners in the world, supporting their digital transformations and online video monetization strategies. Benefiting from a global infrastructure and an extensive partner ecosystem, our market-leading subscription and pay-per-view solution, enables businesses to monetize live or on-demand video content with an unrivalled user experience, and get immediate ROI at no starting costs. 
We support the set up of online video monetization with flexible monetization models (monthly, game by game, seasonal, etc.) and premium pay-per-view or subscription monetization experiences. Any sports organization in the world can boost reach and revenue. It's now a matter of finding the will to move forward, adapt and thrive.