Sporting events are huge nowadays. With 2015 starting strong, sports fans, fanatics and employed in the sports industry are excited by the new developments on the market in terms of supporting technology. Keywords like "fan experience," "engagement," "at-home experience" have become mainstream as sports tries to leverage them to reach new heights.
Video and live streaming technologies are pretty hot topic right now, with dozens of new service providers emerging on the market, offering competitive packages and prices. Video on demand (VoD), Pay TV and over-the-top (OTT) services are currently flooding the market, especially in the US.
According to new TDG research report, adult broadband users spend 20% of their weekly TV time viewing live sports.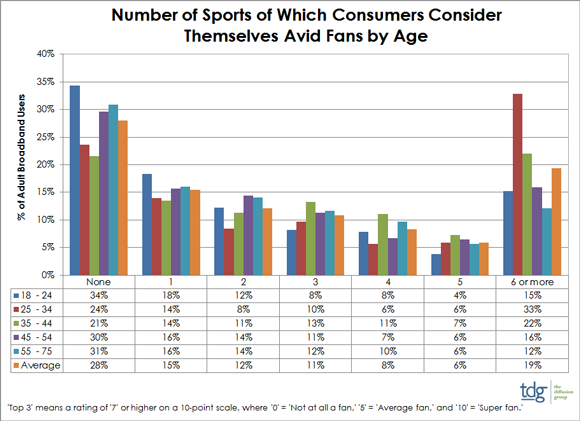 As broadband content distribution takes bigger role in fulfilling this demand, weekly per-capita viewing of OTT TV sports will grow from just under 25 min. in 2015 to more than 4 hours in 2025.
Joel Espelien, Senior Advisor at TDF and author of this TDG's report adds: ""Most TV viewers enjoy live sports. There are, however, certain segments that do so more than others." This correlates with the following numbers.
The report says shows that:
– 72% of adult users consider themselves hardcore fans of least one sports genre;
– 19% of the users are hardcore fans of six or more sports, representing 33% of 25-34s;
– 52% of users being hardcore fans of 1-5 different sports.
The last segment constitutes the modern mainstream sports fan who is more selective in the sports they choose to follow due to time, tradition, the popularity of hometown teams, or other factors.
One interesting and hot initiative comes from NBC. They just announced a campaign named "Super Stream Sunday", which allows viewers to stream 11h of video content regarding to the mouthwatering Super Bowl XLIX match between the Seattle Seahawks and New England Patriots happening this Sunday.
Let's see how the market will actually develop. Things move fast and we think in the right direction.