In these challenging times when strict social distancing guidelines are rolled out around the world and over a quarter of the globe is under quarantine, consumption patterns and engagement across streaming and social media have notably increased. According to the latest Conviva's research, streaming skyrocketed in March, by more than 20% as compared to two weeks prior. In fact, there's never been a better time to sell virtual tickets to your music or entertainment show.  
In the age of connectedness, with options for news, entertainment at the press of a button, the stay-at-home sacrifices are not nearly as harsh. Streaming has become a welcome digital distraction for many, providing a much-needed escape to another time and place. 
Live streaming your music event is surging in the entertainment industry rapidly, so content providers should smartly leverage the power of video and launch online concerts, competitions, games.
Live music and entertainment events streaming is a great way of gaining exposure and making revenue – if you're a musician or artist and you're looking to monetize your videos with pay-per-view and subscription models, live streaming your event or concert online is a great way to connect with fans, gain audience traction, yield a larger crowd and most importantly, drive traffic and increase ticket sales.
HOW CAN INPLAYER SUPPORT CREATIVE INITIATIVES?
With InPlayer you can leverage the power of video to launch your concerts, competitions, games and meet your fans wherever they are, deliver and monetize reliable full-featured live streams at scale, optimized for performance and quality, across multiple devices and platforms. At the same time you can expand your reach to a wider audience to build new revenue streams and sell and pre-sell event tickets directly-to-consumers to maximize revenues and control. 
YOUR TUBE IS SMARTER THAN YOUTUBE
Content owners, live event organizers, brands, influencers get an immediate ROI at no starting costs using market-leading subscription and pay-per-view functionalities. Drive brand awareness with a full OVP-featured monetization tool that overcomes many YouTube disadvantages. Own all the data and revenue. No minimum annual viewing time nor number of subscribers to start monetizing your content, now.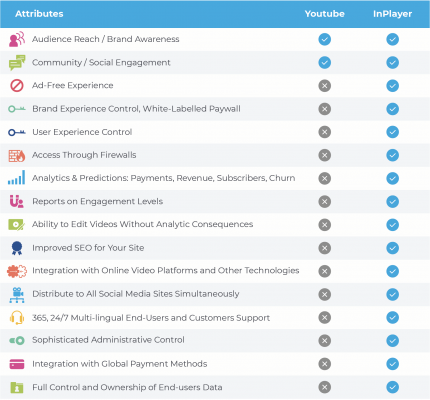 A PLACE TO MONETIZE YOUR CONTENT WITH STYLE
With InPlayer Landing Page, get your own on-demand videos in a branded microsite to showcase, sell and extend the life of every concert, competition or professional contest. Reach all of your audiences wherever they are and maximize your profits using Pay-per-view or Subscription monetization models. Easily tap into the power of a landing page to build your brand, drive conversion and earn customer loyalty. A whole new business model with subscription revenues with an InApp premium monetization experience across platforms, connected TVs and devices.. 
MEASURE YOUR BUSINESS IMPACT
With our powerful paywall platform you are able to gather advanced real-time analytics and predictions of members activity, engagement, payments and revenue generation, subscriber demographics, account session management in order to develop data-informed strategies and execute targeted marketing campaigns to reach audiences. Not only intuitive, the analytics we provide enable our merchants to immediately know the impact of their business with rich data-metrics.  
While music and entertainment businesses are currently forced to restrict their in-person activities, the shift to online video is key to ensure business continuity, keep going and drive revenue with the online alternative.  So get planning, get plugging and set that all-important event date.
Reach out to our team, we are here to help setting up your online video event!