Hosting interactive Q&A sessions on modern platforms is a fantastic way for businesses, broadcasters and influencers to create high-quality content fast, boost interaction and grow online presence. Companies and content publishers have taken notice of the ability for such technology to deliver results, in terms of engagement, impressions, customer experience, and cross-promotion. Passive viewing experiences are no longer deemed sufficient by audiences of today's modern digital habits.
If you are creating content to grow your personal brand or your company, interactive Q&As livestream should definitely be on your list.
What is an Interactive Livestream?
Interactive live streaming technology allows viewers to engage with video content in real time, reacting to it and influencing the content directly. It is not exactly a recent phenomenon. The technology has been utilised widely since at least 2013, attracting hundreds of millions of viewers who choose to engage with interactive livestreams.
Several factors have contributed to this rise, one being the acquisition of interactive live streaming technology by Facebook a couple of years ago, which has allowed people to react to live-stream videos in real-time. Similarly, Instagram and Twitter live videos were quickly fitted out with the same capabilities, especially when market research revealed that users were likely to spend up to eight times as long viewing an interactive video than a standard one.
Why Engage in an Interactive Live Q&A Session?
Whether to grow brands or businesses, taking questions from a target audience and initiating a discussion via interactive livestream can be extremely helpful. It leaves room to get feedback, some feel for what the audience are thinking and what they are asking about big stories.
The boost of interaction with a target audience, in real-time is invaluable. Companies and content owners can learn a lot from their audience by the questions they ask. A live Q&A session brings a lot of value to the viewers because it's tailored to their interests.
The highly engaging nature of Q&As can expand the online presence and reach and repurpose the content. For example, asking viewers to share the stream while live, as well as promote the content on social media groups, paid ads, private messages, email campaigns can additionally create more buzz and interest in a certain topic. If some viewers get inspired and share the livestream session, it means the pool of customers is likely to grow bigger in no time.
At the same time, not everybody will be able to join the chat at a particular time, so it is important to consider how to make that content available after or on-demand, and move the session forward for redistribution.
Spreading the Word Beforehand
The importance of pre-promotion is crucial as it serves to alert potential audiences to the time and the platform of the interactive livestream, as well as helping source questions in advance where necessary.
Whether the conversation is taking place on a social media platform or not, advertising the livestream in advance on social media is one way to spread the word through a number of networks. It's worth adding that by advertising the chat beforehand, not only will it alert people to the Q&A but it will also help "build up more of an appetite for it".
Taking a multi-platform approach to the process, including pre-promotion on different media outlets will spark greater interest among fans.
Sourcing the Questions
People can leave questions on a video-centric landing page, social media, or via email.  Another opportunity for taking viewers' questions is during the live session. When sharing an experience with fans, encouraging them to participate in the conversation will raise questions that might be of wider viewer interest. Even when time is short to answer all questions on a spontaneous live, taking some of them will create a deeper connection and increase engagement with viewers.
Periodical Live Q&A Sessions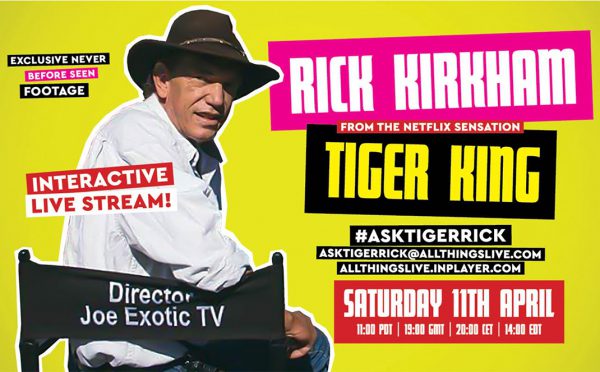 Though Q&As can be applied to any live streaming content, they can also be a standalone piece of video content. Many influencers and businesses have created their own weekly or monthly live Q&A sessions. The key to growing your online audience is to deliver value, consistently. Periodical live Q&As can save you the prep time while bringing tons of value on a schedule.
Recently InPlayer exclusively supported the interactive livestream of Rick Kirkham, the veteran television journalist and producer featured in Netflix's "Tiger King" who went live for fans giving them a chance to ask questions directly via email and using a hashtag #AskTigerRick on Twitter. It was a full on-demand interview with Tiger King's Rick Kirkham hosted by journalist Per Sundnes.
To find out more on how you can monetize premium interactive livestreams and get your own monetization solution with video-centric landing pages, send us a note to get in touch with our own monetization experts!