2020 will be remembered for its game changing effect on so many industries and lives. The world of football is no different as it looks to navigate through these unprecedented times.
The whole ecosystem from clubs' to rights holders, broadcasters to fans have seen changes to the beautiful game that no one could have foreseen. So much remains in a state of flux, but one thing is quite clear – as long as clubs have to play matches with reduced capacity or behind closed doors then the loss of traditional gate receipt revenue is causing huge concern.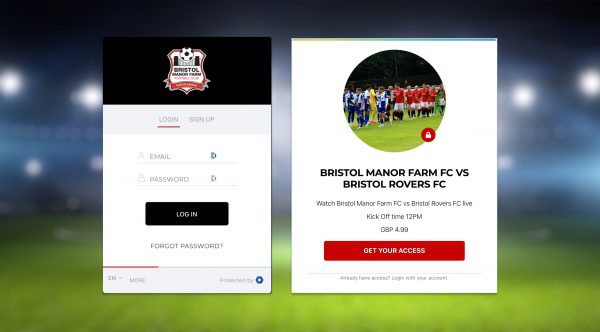 With large gatherings of fans unlikely to be allowed anytime soon, the need for digital transformation is now and clubs have the opportunity to take control and build improved direct relationships with their fan base. It is no longer enough to have a website and be present on the major social platforms, clubs are looking to offer more and become broadcasters themselves – where they have the flexibility to do so.
We are entering a period in the football calendar where many clubs find themselves in the rare position of owning the rights to their own matches. Whether it be Preseason friendlies, Champions/Europa League Qualifiers or other Exhibition matches clubs are looking to offer their matches on a Pay Per View basis, direct to fans, to keep supporters connected and engaged as well as guaranteeing crucial income until supporters can return to stadiums.

Historically a significant blocker for EFL and Non-league clubs in making PPV and Streaming initiatives commercially viable has been the price of production. However this is also changing as solutions enter the market that are cost effective as well as maintaining high broadcast standards. One of the organisations making this possible is an InPlayer partner, CJP Broadcast. CJP are working at Wembley with The FA as well as many EFL and Non-League clubs. Their high performance, low-cost sports production solution enables clubs to produce and stream games with up to eight cameras at a fraction of the traditional costs associated with live game coverage from mainstream broadcasters. 
Combining the InPlayer's paywall and CJP broadcast capabilities can provide an end-to-end solution for clubs at all levels to generate new revenues.
 "This offers a long term strategy for clubs to create their own Web TV Channel and live streaming capability to widen a fan base to a global audience. Clubs that move to their own Live Stream and VOD TV channels are far more likely to be able to build financial strategies for the short medium and long term sustainability of their club", says Chris Phillips, Managing Director at CJP Broadcast Service Solutions Ltd. 
 The shock waves from the global pandemic will continue to be felt across the sporting world for some time. It has created urgency to accelerate digital transformation not only within football as other sporting organisations increasingly look to go direct-to-consumer. 
The challenge remains in identifying scalable and reliable monetisation tools that work across-platforms and devices, globally. With 10+ years experience in live and on-demand sports video streaming and monetisation, InPlayer is trusted by the largest leagues, federations, rights holders and content owners in the world.
Further Reading
Shamrock Rovers Take Europa League D2C
Behind Closed Doors Pay Per View
Stay In The Game – The Sports world adapts in 2020