The adoption of enterprise video content is already skyrocketing ROI in businesses as video enables their employees to look in the eyes of their clients wherever they might be.
The researchers at Technavio think the global online video platform market will grow 14.88% by 2020. This is mainly because the management of video content due to technological advancements has become easier and caused more organizations to embrace video.
Otherwise enterprise video content management is defined as "Software, appliances or software as a service (SaaS) intended to manage and facilitate the delivery of one-to-any, on-demand video across internet protocols." according to Gartner.
In a consumer study they conducted online during July and August 2015 in the U.S., the U.K., France and Germany, they found that around 22% of workers have access to a video library to increase their skills, which was nearly zero less than 10 years ago.
Truth is majority of the vendors in the market develop videos for external people to the enterprise, but the demand is higher from organizations that support internal delivery.
State of Enterprise Video
In Kalutra's State of Enterprise Video report where they survey around 500 enterprise professionals and examine the evolving use of video, almost 73% of respondents said they produce more than 5 internal webcasts yearly, and ⅓ whooping 50 or more.
The study says that the most popular use is the employees' training of different kinds, company events coverage and of course, marketing videos.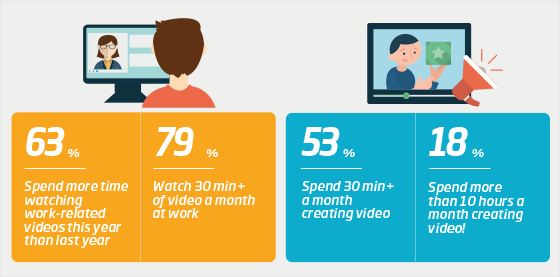 Companies' wide communications such as all-hands meetings can't always happen when everybody is available as a result of a different time zones and work schedules. So, producing on-demand videos comes in handy for people who can't attend live or want to revise what's been said after.
With live video the impact of distance is reduced as well as the travel costs to bring everyone in one place for a live in-person meeting. Still, on-demand video is used more, but with team/department communication live video is dominant.
According to the research to create a video takes less than 30 minutes a month compared to spending between 30 min to 5 hours monthly for video watching. What is more 45% of respondents reported that they have created more videos every year in succession.
Skyrocketing of ROI
For companies that embrace video, regardless on-demand or live, the business outcomes are numerous. The productivity among employees is increased as well as the work-life balance and engagement.
Video collaboration helps companies in so many ways like instead of burning their employees out with business travels, they can stay on the top of what's happening in the workplace without sacrificing work-life balance. By doing this companies reduce the risk of losing talent because 81% of engaged employees intend to stay with their current employers which leads to 22% higher profit for the company.  
HR professionals also choose video conferencing as a preferred communications tool because it gives them many advantages regarding staffing, training and flexible working hours.  
Cisco, for instance, believes that video collaboration is helping the company with the perils of managing their global workforce. This is because more than 40 percent of their employees work outside the U.S. As a result, the company saves $250 million in travel costs per year by using enterprise video.
Going back to Kaltura's study, more than half considered video to be very valuable for improving communications, employee training, connecting remote teams and enhancing product marketing and brand awareness. The value of video shows stable trend as years pass by.
Integration of Enterprise Video
Video content management platforms are often used by being integrated into already existing systems. In the above mentioned research by Kaltura when participants were asked about which enterprise platforms are used in their own companies, over half of the responses were Microsoft SharePoint. Salesforce is number 2 with around of 28%.   
Wearable video can expand from law enforcement to many different field occupations such as logistics, service, sales with the accelerated demand of IoT. Video can help with purchasing decision, usability and understanding of businesses needs.
Prospects and Existing Customers Outreach
Enterprise video helps companies to reach existing customers and new prospects alike. US digital video ad spending is expected to double-digit growth annually by 2020.
Research firm Advertiser Perceptions found that 72% of marketers have plans to invest in digital video ads with YouTube in the next 12 months.
Since video content is more engaging than text, provided the SEO job is done right, it is 52 times more likely to show up in top Google search results. As for using video on your landing pages it is proven it can increase conversion rates by 80% and make some serious money.
Video landing pages look great, if produced to a high standard and have several benefits that their traditional counterparts just can't match.
However, outside of enterprises, the combination of this ongoing video trend has enabled businesses to produce videos for advertising with relatively small marketing budgets.In short, video is becoming a new normal for almost every organization so businesses need easy to use tools for video capture and platforms that can fully support integration with other existing systems.