Technology has played an important role in improving and expanding educational content worldwide. Online video is the dominant communication medium in the world today. In recent years, businesses of all types have been getting involved in corporate live streaming. In total, the global enterprise video market is expected to reach $40.84 billion by 2022. 
Video content, for that matter, presents an amazing opportunity for educational knowledge sharing and teaching. Video for educational purposes, in particular, has been transforming how we interact, collaborate and share knowledge. More and more content consumers worldwide expect to learn and connect using online videos, so education businesses and organizations need to constantly be up-to-date with the latest technologies in their area of work. 
An educational video strategy that digs deep into these possibilities is bound to succeed in the long run, at the same time offering help to consumers and educators and/or organisations alike.
What Are Online Video Education Platforms?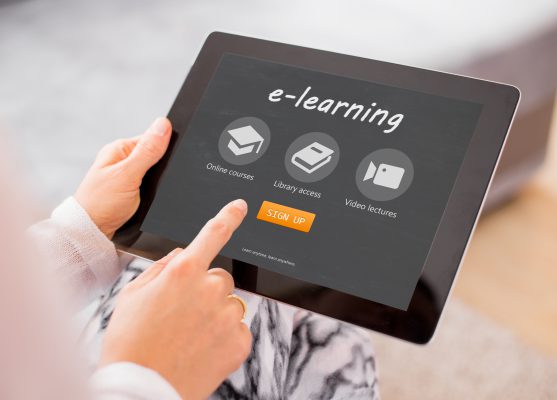 Education video platforms are fundamentally what the name recommends: built platforms to educate their users. They have directories of recordings, blog entries, ebooks, or other enlightening or scholastic content on various different topics.
The most successful education platforms revolve around a particular specialty. This is essential if you're looking to make your educational content or conferences available to a wider audience and to those who can't attend in person and by doing that even gain revenue from the subscriptions. 
Monetization of education videos is not something new or really hard, because these days there is so much content on the Internet, that users are willing to pay. Yours shouldn't be an exception too, if it involves a specialty of some kind, or offers top quality content from specific educational sphere.
By having your own education platform you can easily enrich e-learning experiences and increase members' engagement. Using appropriate video software means you can capture  on video your whole recordings in one place. Also, your educational content can be available anytime, anywhere in the world. Some software gives opportunities for remote learning, flipped classrooms and social learning by powerful video tools.
Launching an Online Video Education Platform
As an online elearning provider you're probably curious about the details on how to launch an online video education platform. Let's quickly address the essential 5 steps required:
1. Because of the worldwide appeal of online education, it's important to have a reliable streaming provider. A good Online Video Platform (OVP), can provide the tools and reliability necessary for this type of use. We, at InPlayer, take great pride in our partnerships, mostly of which are established OVPs on the market that can help you out with the launching of your platform.  
2. Configure as necessary, using API features to integrate with your existing systems. 
3. All-device adaptive streaming delivers each viewer with the highest-quality stream that their internet speed supports at any given time.
4. If you're new to streaming, choose a Content Delivery Network (CDN) to have your content delivered around the world. OVPs usually have a CDN to distribute video content. CDNs ensure video content delivery across networks all over the globe without buffering, lag, or other quality issues.
5. One of the most important features for educators is security. Only people with authorized access should access the content provided. To secure access, you need reliable authentication and access management features. Luckily, professional monetization platforms like InPlayer provide these tools.
What About Monetization and Content Protection Models?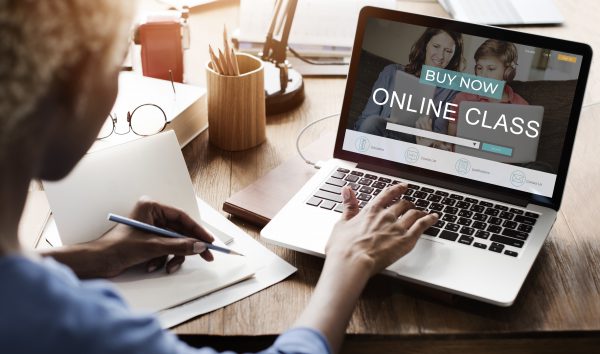 But what are the different ways to monetize and protect education videos (for both live streams or on demand) or a video library that has valuable information worth paying for?
1. AVOD i.e. Advertising VOD
One of the common and most basic methods of monetization is AVOD or Advertising VOD – a model that is technically free for the users, in the sense that you they pay with viewing ads.
This can function as a replacement for in-video advertisements or promotions on the pages that host the videos. The money you make by AVOD depends on how many people had the chance to view your content. But there is another thing worth considering – ad-blockers on the rise eliminating advertising revenue. No matter what industry you operate in, people's use of software to block digital advertising keeps gaining traction worldwide.
You can likewise implement web based advertising, for example, web banners or video advertisements to monetize your videos for education or your e-learning website. Educational content such as e-books can also be a solid ground for advertising opportunities. 
Additional advertising can also be done by writing guest posts on prominent education blogs with topics that can range from new courses, study tips, e-learning updates and FAQs on subscribing for an online course.
2. Subscription Monetization
Another approach to monetize your education videos is to implement a subscription business model. Subscriptions, as the name suggests, include paying a normal monthly fee in return for access to a content video library. Individuals can have full access to the video material by subscribing to a certain recurring fee. Subscribers are commonly charged monthly or yearly fees dependending on the frequency of content distribution. 
In an educational context, subscriptions offer much better chance for users who are willing to study a variety of courses simultaneously. It may also provide more reliable income for content creators, since future income can be predicted to some degree.
However, subscription monetization has different challenges the two main being: growing the monthly recurring revenue (MRR) and reducing the churn rate. Shortly, MRR is the amount of revenue that your business makes in a month. To make sure your MRR grows, you need to take care of your users not leave or cancel their subscriptions. 
Churn rate on the other hand is the number of users that cancel or let their subscription lapse. They fall into one of two categories:
Voluntary churn: These are users that purposefully cancel their subscription. For example, they've watched the entire content that they signed up to watch, and now they're done.

Involuntary churn: These users churn unintentionally, whether their payment method has expired or a transaction is declined.

Identifying your churn rate is examining your subscriber management dashboard and separating voluntary churn from involuntary churn. You should reduce the churn rate to as low as possible to improve your margins and drive more business.  
3. Pay-Per-Course or PPV
Pay-per-view or in this case pay-per-course is video monetization when the viewer pays a single fee for each video (or collection/video library) they'd like to watch. This model is also called transactional and it's easy to understand and use, widely accepted by most content creators. Also, it's a great option, especially when viewers are looking for bite-sized chunks of learning, or individual courses.
As a result customers are charged in different ways, depending on the type of product or service used and time spent using it. In general, it is an extremely fair way of treating those who use a service sparingly can pay as they go, which makes it practical and really affordable.
With the pay-per-course model, you can even lure your members to pay for premium content (for example, material submitted by niche experts) by offering free and advanced courses using video for education. This way, members still get to access content, but will only pay for the premium learning content if they need to. 
4. Premium Access
The premium access model offers members access to exclusive content or gives some sort of a special VIP access and perks to its subscribers. A one-time payment is usually implemented for Premium Access memberships. Basically, the objective is to get the users hooked to the product, thus motivating them to renew their subscription, and also promote the product via word-of-mouth. 
5. Group Accounts & Additional Video for Education
Group accounts offers give multiple access to users to your video library under one entity, for example, a company or school. If you have a e-learning platform you can offer batch discounts under one account. For more information, see  InPlayer Relate and InPlayer Syndication.
This can be used to sell support materials for additional revenue like course software, online learning tools, etc. Moreover, you can develop partnerships with third-party suppliers like SaaS businesses to advertise and/or provide additional content to be sold on the website.
6. Affiliate Marketing Programs
Videos for education on e-learning websites can also earn revenue by joining an affiliate marketing program. Commission is earned by setting up links that will redirect the traffic to partnered websites. For more information, see InPlayer Syndication.
The cornerstone of any effective affiliate marketing promotion is to pick the right affiliate programs and products to promote, since not affiliate programs are made equal. 
On a side note, ads might seem like the most natural solution for website monetization, but the ads aren't always working they way you might be imagining. Most online ad services pay on a per-click basis. With click through rates averaging well-under 1%, you'd need tens of thousands of unique visits every single day on your videos to make any kind of significant income.
7. Monetization with InPlayer – Integrated Paywall, PPV and Subscriptions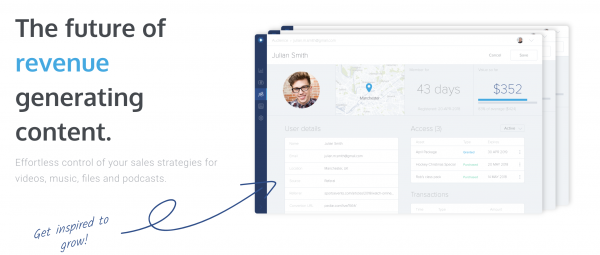 InPlayer enables professional educational courses and conferences/events organizers of the world to maximize the value of their knowledge and convert reach into revenue.
How do we do that? We offer integrated paywall, so content owners can easily monetize through pay-per-view billing for one-off events, or create a recurring subscription for access to a library of content.
An integrated paywall means that video purchases occur in the video window itself where customers enter their payment information. This information is safely encrypted and transmitted to the bank. After that payments are approved, and an access to the video is opened up.
This is where we, at InPlayer, excel. The idea behind our next generation video and digital asset monetization platform is that any page on any website, including the personal site for any content creator, can instantly feature our paywall to protect and monetize their content. 
Integrating a paywall has a number of advantages. First, it helps with security by reducing the chances that a freely-accessible video will be embedded into other domains. Second, it makes the process seamless for the user as it removes the navigation steps. Everything becomes crystal clear for the viewers from entering their payment info, to watching the video. 
With our built-in paywall solution all you have to do is specify a price and duration and pricing model. This includes creating secure logins for viewers. We handle the transactions, all payments are sent directly and immediately to your PayPal account or another payment processor of your choice. You can manage all of these features directly from your own dashboard.