In just a few months, the COVID-19 pandemic has dramatically changed the workplace. With little to no contact with employees, vendors and customers, many organizations around the world – with varying degrees of readiness – have had to quickly transition to remote operations, find new ways to continue to be productive and stay connected with employees.
Video has always played an important part in communication among enterprises, but since the COVID-19 pandemic, it has gained a far more important role. Reliable, secure and customizable to the mission at hand, video has become the go-to technology for engaging audiences and communicating a consistent message. 
From external marketing to employee updates, organizations are using video to navigate the current crisis and build a strategy to ensure continuity in the future. How to provide a needed flexibility and value to a business ? How to open up a virtual workplace, engage with remote employees globally and make live streaming and on-demand videos an avenue to boost employees engagement and productivity?
Live Streaming Moving to The Forefront
To boost their reach and revenue in a safe – and sustainable – way,  live streaming (pay-per-view) enable leaders to create immersive virtual experiences, company's new product demos, company news, customer testimonials, and even headline keynote speakers, all while reaching an even wider audience than intended with an in-person event. Video generates more leads, improves conversation rates, provides data that is not available with text on a page and can be monetized with pay-per-view or subscription functionalities.
InPlayer is a solution that can be scaled from small team live or recorded training, to sharing executive communications or live events with more than 1,000 virtual attendees. Organizations can choose to have those assets available live or on-demand, restrict access and monetize content with any audience simply, quickly and efficiently.  
READ MORE: Sustainably Turning Live Streaming Into Reach and Revenue 
Protection Wall 
Giving or restricting access to selected groups of people or employees can be smartly leveraged for employee training programs, or meetings, within teams and organizations. Enabling employees to get critical information and direction is important, especially when face to face conversations are limited. Video is the perfect way to give employees confidence as it is the most secure way for leadership to communicate. It helps unify and connect with employees in person.
With InPlayer's protection wall and  comprehensive authentication solutions & APIs, enterprises can authenticate users fastly and easily across apps and devices. It's optimized and offers a premium registration experience to users – and returning users – with industry-leading functionalities.
Video viewing is seeing year-over-year growth as more and more enterprises decide to replace travel, annual conferences, company wide meetings, and even casual meetings among employees. Year-over-year gains in enterprise video views increased more than 90%.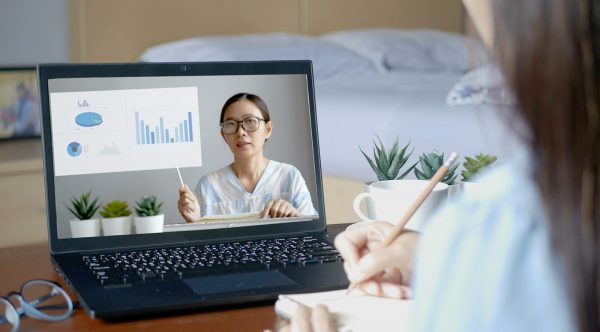 Enterprise Video Massive Increase Since COVID-19
 How has the health crisis evolved enterprise communications? Enterprise video experienced a massive increase in usage during the first quarter of 2020 as many people shifted to remote work during the coronavirus pandemic. Video views increased 81% and 78% in January and February, respectively, and March saw a staggering increase of 111%. The amount of time watched also went up in all three months compared to last year. 
The pandemic proved to be the video's evolutionary turning point. Whether holding a company webinar or hosting an industry conference, enterprises will continue with their need for secure, reliable video technologies to stay connected with customers and internally, for their own purposes. 
In this constantly changing situation, video has been thrust to the center stage as a solution to newly imposed challenges, as the corporate world has been forced to evolve during the pandemic. 
This evolution has included increased usage across all business verticals, and it's been the desired process to provide scalable and secure video communication. One thing is for sure, enterprises will continue to adopt video as a primary way to do business even when the pandemic will finally be over. As we move through Q2 of 2020, we can expect to see more use of video as well as more unique and innovative use cases because organizations all over the world see connectedness with their employees and customers as a priority. 
Enterprise video has never been more popular as it is now, and companies that don't take advantage of it will surely have a difficult time moving forward. 
While it may be driven currently by the crisis surrounding the COVID-19 outbreak, there's a new requirement for video in the enterprise: keeping the human connections that power today's businesses.