A beauty pageant is a competition that has greatly evolved over the years to now become a major event where women are asked to express their opinions, beliefs or ideas on how to improve the society. It's all about empowering women and giving the winner a chance to be a spokesperson for a cause or help raise funds for charities.
The term refers largely to contests for women such as Miss America, Miss USA and their related teen versions. The rankings of the contestants are referred to as placements. Possible awards of beauty contests include titles, tiaras or crowns, savings bonds, scholarships, and cash prizes.
THE CLIENT –
JC Productions
JC Productions is the Number 1 company in video for pageantry. Their crew's pageant footage has been used by Good Morning America, ABC, TLC, CNN, and many more. They have more than 40 combined years of experience in pageantry.
What also sets JC Productions apart in pageantry is that one of their staff members is a former competitor. She understands what contestants are interested in and balances that with their video capabilities to create the best products and packaging for the pageants and their contestants.
THE CHALLENGE – 
Increase viewers engagement
Our client, JC Productions needed to have a voting solution for contests like Miss USA and Miss America. This added feature to our existing paywall would allow the viewers to vote for their favourite contestant. Furthermore, JC Productions would use the number of votes as a mean for the streaming company to retribute the contestants
accordingly.
The additional benefit of the voting solution would be to increase viewers and visitors engagement by allowing them to vote for their favourite contestant.
THE SOLUTION –

InPlayer's Voting App
We created the Voting App especially for this client's event and as a solution that would integrate seamlessly into our existing paywall, so be easily re-usable for other events or by other customers.
HERE IS HOW THE
VOTING APP
WORKS:
Step 1: A customer comes to the event page and registers through the paywall.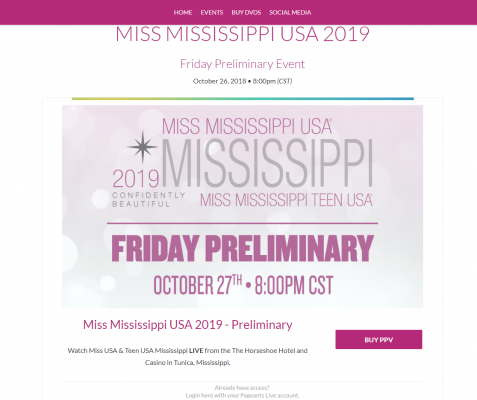 Step 2: The customer goes through the payment gateway, i.e. the customers must pay first in order to be able to vote.

Step 3: Right after the customer pays, the voting app shows up. They are choosing the favourite contestant to vote for and click on the VOTE button.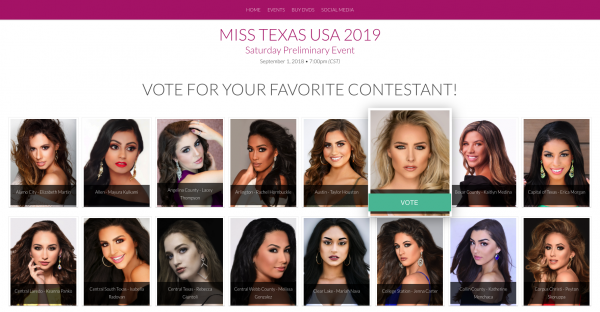 Step 4: A confirmation for a successful voting pops up and the customer can watch the content.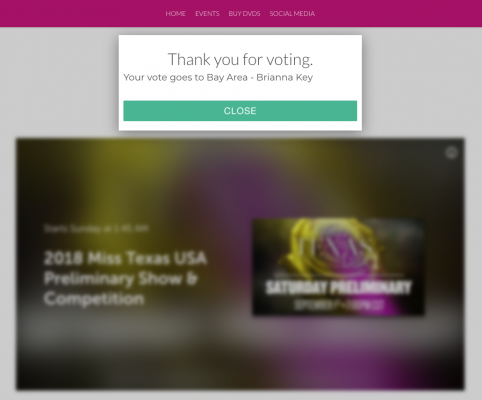 All votes are automatically recorded in a Google spreadsheet which contains the timestamp, name of the contestant who is voted for, User ID and Asset ID.
The client has the freedom to filter out, sum up the results and use it for his purposes.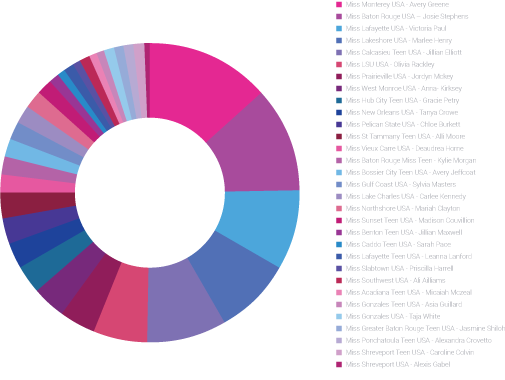 THE RESULTS – 
A happy client
…
and more to come
InPlayer's technical team were able to create the Voting App from scratch in less than a week and JC Productions were stunned by the solution we provided to them. They have decided to re-use it for their upcoming pageant events.
As mentioned earlier, this solution is a nice add-on to our existing paywall solution and can be provided to other customers looking for an easy to use voting feature. The Voting App can now be implemented into any new project in about an hour.
For example, it could be used by clients who are streaming combat sport events and also sell related merchandising. This app provides them with an easy way to engage their audience by letting them vote for their favourite contestant, entering them at the same time into a prize draw to win official merchandise for the selected winners.
A really good way of capturing users' attention and enabling more interaction and engagement.
Sign up to try InPlayer free
Make money on your content