In the US, "cord-cutting", that is, choosing not to continue paying for traditional cable television packages, is becoming a very real (and a very scary, at least for television networks) trend. In fact, over the pond, 2015 has been hailed as the "year of the cord cutter".

So why are people shunning the networks to which they've previously been so loyal? And will we see a similar trend begin to emerge in the UK (if it hasn't already)?

There are two primary interrelated reasons people are opting not to renew their cable TV contracts: "21st century preferences" and competition.

Back in the day, watching television was an event, with families huddling round their 13-inch screen TV in the evening and enjoying a show together. And they loved it.

From 1950 to 1960, the number of American households with a TV rose from 9 percent to 90 percent. But most families could only afford one television set, and the networks knew this, and so produced family-friendly content which could watched and enjoyed by millions.

Ask American of the right generation whether they remember The Beatles first US live television performance on The Ed Sullivan Show, and you'll see their eyes glaze over in happy reminiscence.

Now, however, we live in a world of virtually constant stimulation, and, thanks to our smartphones and tablets, many of us have access to text, music, and video at our fingertips.

So, if dad wants to watch the football, mum wants ta science documentary, son wants to listen to Snoop, and daughter wants to watch Shrek, there's really no reason why they all can't have their own way; most UK households now have more than one television set, and smart-devices are make finding and viewing content easier than ever.

With so much choice, why would you continue to pay for hundreds of channels when you watch maybe a handful on a regular basis?

Which brings us on to competition.

Web-based televisions services – like Netflix, Hulu, and, soon, Apple TV – cater to 21st century preferences, allowing consumers to control what they watch and when the watch it. And the traditional networks, after a period of resistance, have finally acquiesced, too, with many releasing or are planning to release their own web-based TV offerings – e.g., HBO Now and CBS' Showtime.

Take a look at these two flowcharts (made by USA Today) and get in the skin of the US viewer. The choice depends on many factors.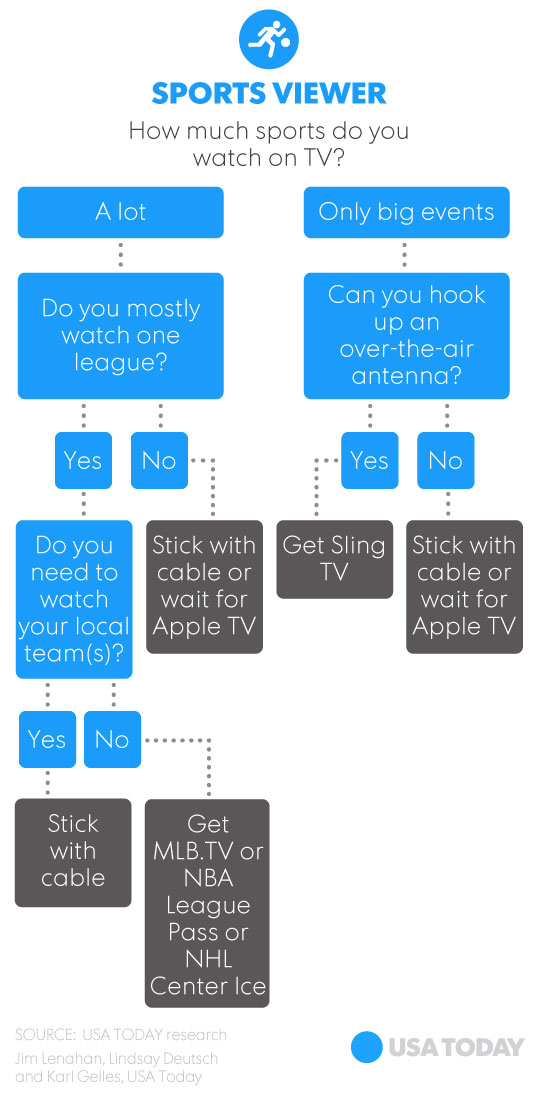 The combination of changing entertainment preferences and plenty of providers happy to cater to them is what's sounding the death knell for traditional cable TV (though the medium does still have a monopoly on sports – but for how long?).
Though no recent major studies have looked at how many UK consumers are looking to cut the cord, at least anecdotally these trends seem to ring true in the UK, too.
So, do you think web-based TV will kill cable TV in the UK? Are you thinking of cutting the cord?
If you enjoyed this story, connect with me via Twitter and Google+.